An unknown group or individual has hacked the Twitter account behind crypto and stock trading platform Robinhood to push users to buy a "new" token.
Many Crypto Twitter users reported on Jan. 25 that Robinhood had posted a tweet calling on its 1.1 million followers to each pay $0.0005 for a token called "RBH" on the BNB Smart Chain. Conor Grogan, the head of product business operations at Coinbase, reported that at least 10 people had purchased roughly $1,000 worth of the scam token before the tweet was removed.
Likely due to the invocation of Binance, CEO Changpeng Zhao reported the company's security team had locked the account linked in the tweet "pending further investigations". At the time of publication, the tweet was no longer visible on Robinhood's account. A Robinhood spokesperson told Cointelegraph that the hacker — believed to be a "third party vendor" — had made posts on the platform's Instagram and Facebook profiles as well.
"Always have critical thinking even [if] the account looks or is real," said CZ.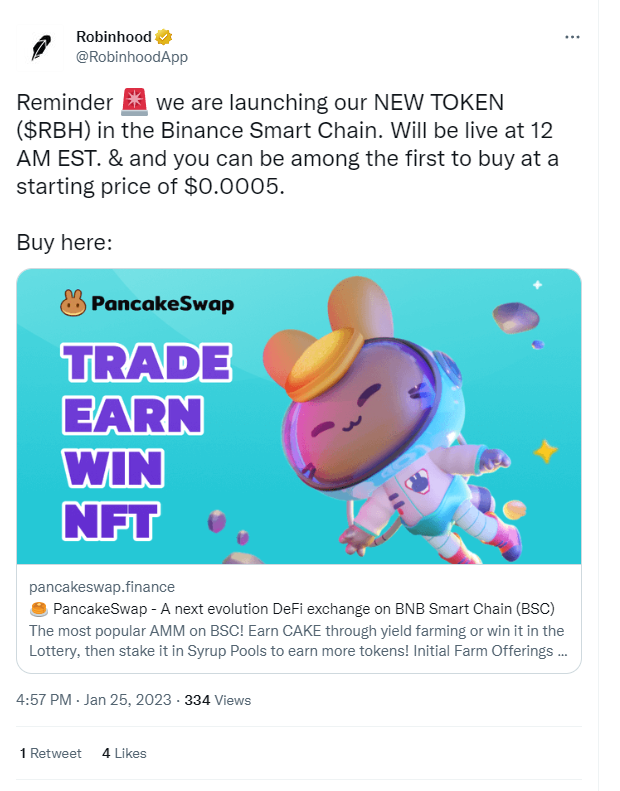 According to Decrypt, the hackers made off with around $8,000 worth of Binance Coin (BNB) tokens. People who bought the token found they could not sell or transfer it afterwards, meaning that money is now likely lost. That said, the CEO of Binance tweeted that its team had locked the wallet that benefited from the scam, which was hosted on the popular crypto exchange.
In a statement, Robinhood said it's investigating the unauthorized posts on its Twitter, Instagram, and Facebook profiles, which "were all removed within minutes." While only a limited number of people fell victim to the scam, it highlights the danger of buying crypto based on social media posts.
Unfortunately, the cryptocurrency world is rife with scams and there's not a lot of regulation in place to protect investors. According to the FTC, crypto scammers made off with over $1 billion in assets between January 2021 and the end of March 2022.
Fake tokens that promise investors a chance to get in early are one of several ways criminals rip off investors. Don't trust crypto or other investment information you read on social media — even if it seems to be from a trusted source. Not only can accounts get hacked, fraudsters sometimes also imitate the accounts of major personalities to trick unsuspecting fans.
It's also important to always do your own research. In the case of the fake Robinhood token, a look at the company website would tell you the company wasn't planning to launch its own crypto. Plus, know that if a token is only available from a decentralized exchange like PancakeSwap as RBH was, there's more risk involved. While top crypto exchanges don't necessarily endorse the cryptos they list, there is a vetting process involved.
Other red flags to watch out for when buying a new crypto? Check to see if it has a reputable management team, whitepaper, and consider what utility the project has. If the project's leadership is anonymous or inexperienced, that's a reason to be cautious. Similarly, if it doesn't have a website or whitepaper, don't rush to buy it.
Cryptocurrency investments are already risky in terms of the extreme volatility and uncertainty about the industry's future. One way to mitigate that risk is to only invest money you can afford to lose. Another is to tread carefully in terms of the cryptocurrencies you buy and the platforms you use.
Twitter Hackers Target Billionaires
On July 15, 2020, hackers easily penetrated the defense perimeters of Twitter. They disguised themselves as Elon Musk, Bill Gates, and Warren Buffet, among others.
Former US President Barack Obama and then-Vice President Joe Biden also had their accounts compromised.
Cybersecurity Ventures anticipates that the worldwide cost of cybercrime would increase by 15% yearly over the next five years, exceeding $10 trillion annually by 2025, up from $3 trillion in 2015.