Bitcoin, the most famous cryptocurrency in the world, breaks a price record again! The coin set a new all-time high of $68789.63 on November 10, 2021. BTC updated its previous record of $66,930.39 on October 20, 2021. 2021 was a turbulent year, both inside and outside the Bitcoin scene. Time for a brief look back: what big things happened in the world of Bitcoin, and how did this beautiful record market price come about? And what can we expect from the crypto-king next? Will  Bitcoin go up even more? Let's find out in our Bitcoin coin review!
The bitcoin price has become increasingly responsive to the outlook for inflation and interest rates, as it has begun moving in line with stock prices.
"Inflation is an obvious concern with crypto prices correlating tightly to equities. But this concern has risen even more after Elon Musk acknowledged how big of a major concern it is for Tesla and SpaceX. More than anything, the fact that "inflation" hit its biggest interest spike in months is a reminder of just how much influence Elon continues to have on price direction," analysts at Santiment noted in a recent BTC price analysis.
A look at the bitcoin price history shows that it started the year at $46,306.45, after retreating from November's record of $68,789.63, and fell in January to a low of $33,184.06. The price moved up to $45,661.17 on 10 February, but failed to hold, dropping to $34,459.22 on 24 February as the financial markets sold off in response to Russia's invasion of Ukraine.
The price spiked again to briefly touch the $45,000 level on 2 March before retreating to $37,260.20 on 7 March. The bitcoin price trend has since turned higher, approaching $43,000 on 23 March. As of 28 March, bitcoin has been trading at $47,159, up 14% within the past seven days.
"Perhaps world wide sanctions, currency scares and fear of various government crackdowns is why Bitcoin has been holding up despite drops in the altcoin market and in tech stocks," analysts at crypto research and algorithmic trading firm Efficient Frontier said.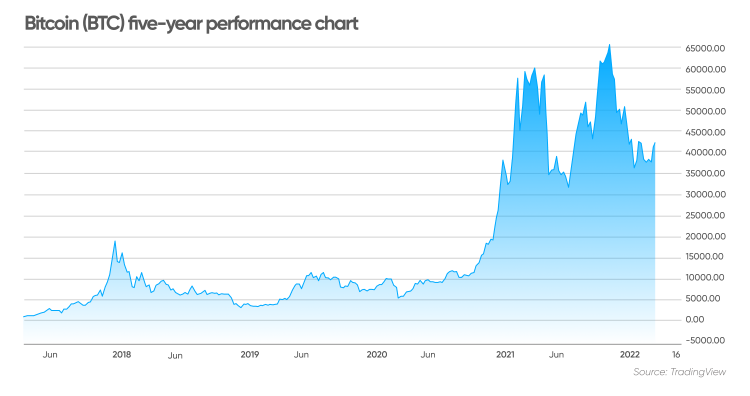 Institutional interest in bitcoin has been sensitive to macro developments
Digital asset funds saw outflows for the second consecutive week last week, totalling $47m according to digital asset management firm CoinShares.
 "The same trend continued with outflows predominantly coming from North American providers, with outflows comprising 98% while flows in Europe were broadly flat. We believe the recent negative sentiment in North America is due to continued jitters over regulation and geopolitical issues caused by the Ukrainian conflict. Since the conflict began, we have seen trading volumes rise by 160% and 150% in Ukraine and Russia respectively," said CoinShares.
Bitcoin funds had the largest outflows, with a total of $33m, although that was half the level seen in the previous week. Outflows totalled $101m over the two years but year-to-date flows remained positive at US$64m, CoinShares data showed.
Analysis from Arcane Research shows that open interest in the bitcoin futures market has been stable at 360,000-380,000 throughout 2022 so far, reflecting its prolonged consolidation.
"The 30-day volatility of the BTC denominated open interest sits at 1.5% and bottomed at 1% on March 5th. This is far lower than the previous lows of 2% seen in July, late August, and early December, and overall suggests that activity from traders is unusually low at the moment," according to Arcane's weekly newsletter. "The flat trend in open interest is a result of fewer liquidations as bitcoin trades within a narrow trading range, in addition to less activity from traders during this very uncertain market climate."
Two strong weeks of inflows into the ProShares bitcoin strategy ETF (BITO) has seen its total bitcoin exposure rise to a new all-time high above 28,000 BTC.
"Strong inflows into futures-ETFs may have spill-over effects on bitcoin's price as market makers chase for delta-neutrality, leading them to accumulate more in the spot market to offset any possible net short exposure," the report said. "Overall, the strong inflows to BITO suggest that bitcoin appetite through traditional investment vehicles is increasing."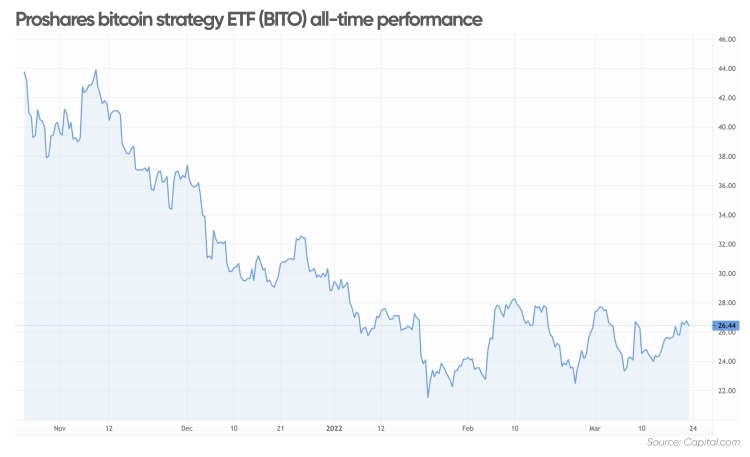 El Salvador's first bitcoin bond delayed
The increased uncertainty in international markets resulting from the Russia-Ukraine crisis has also had an impact on El Salvador's plan to launch the world's first bitcoin bond. The government, which was the first in the world to make bitcoin legal tender, announced plans in November to build a Bitcoin City financed by the issuance of a $1bn bond.
The issuance had been expected in mid-March, but the government is holding off with the markets facing increased volatility in response to the crisis.
"El Salvador has allegedly demand of up to $1.5bn worth of Bitcoin Bond. If this is true, the bonds are likely to be oversubscribed," analysts at Dutch bank Saxo noted.
What do analyst expectations indicate about the direction of the bitcoin price? We look at the bitcoin outlook below.
BTC price prediction: Analyst sentiment
Commenting on the BTC price prediction, Mikhail Karkhalev, analyst at Capital.com, said:
"After the US Fed meeting on 16 March, risky assets revived as Fed Chief Jerome Powell made it clear that there will be no aggressive and faster rate hikes this year. As Mr Powell said, the Fed is not going to act emotionally and will continue to trust the facts. Markets have expected seven rate hikes in 2022 and this negativity has already been built into prices, but as there are only six meetings left and the Fed likes to take one break after a hike, seven hikes are unlikely.
"Risky assets, including bitcoin, have responded by rising. BTC's main goal is to break out of the dangerous range of $35,000 to $44,000. If it succeeds, the market will start recovering even faster and BTC will go to test $52,000. Apart from the existing economic and political problems in the world, there are no new ones yet that could affect bitcoin negatively. If things continue to stabilise, we are likely to see the crypto market continue to grow."
Analysis from BCB Group on 21 March noted that "BTC seems comfortable on a $40k handle but as mentioned a fair few times, needs to get back above $45k-$47k if we are to avoid a pullback. Trendline resistance now comes in just shy of $43k which will be the initial resistance needed to be overcome."
Short-term bitcoin forecast
How high can bitcoin go in April 2022? Technical analysis from CoinCodex, as of 28 March, showed that with BTC trading around $47,159 there was resistance at $47,644, $ 48,446 and $50,049, with support at $45,240 down to  $42,835. There were 27 technical indicators showing bullish signals compared with five bearish signals.
All the daily and weekly simple and exponential moving averages (except for the 200-day MA) showed buy signals. The Hull moving average (HMA) and the volume-weighted moving average (VWMA) were also bullish. The stochastic fast, stochastic relative strength index (RSI) and Williams percent range showed sell signals.
CoinCodex had a bitcoin price target of $43,636 for 2 April, indicating a retracement from the current price of above $47,000.
Bitcoin price prediction 2022 and beyond: Targets for 2025 and 2027
At the time of writing (28 March) the bitcoin forecast 2022 from algorithm-based forecast site Wallet Investor had the price trending higher from the $49,787 level in April to $63,409 by the end of the year. Bitcoin could then climb to $132,249 by the end of 2025 and $161,343 in five years' time.
The BTC price prediction from Gov Capital had the coin trading lower than Wallet Investor at $57,354 by the end of 2022. Based on deep learning technical analysis, the site projected that BTC could soar to $178,471 by the end of 2025 and $257,240 in five years' time.
Long-term bitcoin projections
The long-term bitcoin forecast from Digital Coin also anticipated a strong bitcoin price rise, with the price averaging $63,006 in 2022 and $69,615 in 2023, based on historical data. BTC could then rise to $87,910 in 2025 and $215,687 by 2030.
Price Prediction's outlook for the bitcoin future price was the most bullish, expecting BTC to average $55,451.30 in 2022 and $82,152.51 in 2023. Based on deep learning technical analysis, the site suggested that the coin could skyrocket to $1,123,235.01 by 2030 and hit $1,713,042 in 2031.
It's essential to keep in mind that cryptocurrency markets remain extremely volatile, making it difficult to accurately predict a coin's price in a few hours and even harder to give long-term estimates. As such, analysts and algorithm-based forecasters can and do get their bitcoin predictions wrong.
If you are considering investing in bitcoin or other cryptocurrencies, we recommend that you always do your own research. Look at the latest market trends, news, technical and fundamental analysis, and expert opinion before making any trading decision. Keep in mind that past performance is no guarantee of future returns. And never trade more money than you can afford to lose.